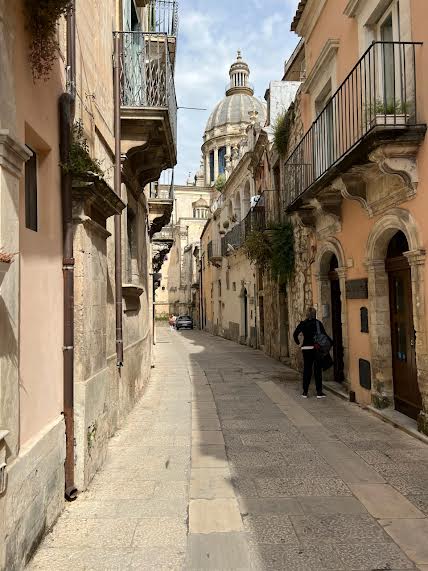 Ragusa
Our dear friends, Albert Lauber and Craig Hoffman, invited us to join 16 other friends to spend a week in the beautiful Commenda di San Calogero in the Sicilian countryside near Catania. At the end of our trip, I said to Craig, "I can't describe in words this extraordinary experience." Craig responded, "You are the writer; I expect you to do this." So here goes:
Our hosts, Albert and Craig
SOUND: We awoke to the sound of birds chirping at sunrise, and we listened to the wind howling and soft rain pattering old stones. We enjoyed cocktails around the crackling fire in the main salon before moving to the grand dining room for dinner.
At the Commenda di San Calogero
SIGHT: We feasted our eyes on our Commenda, dating back to the 1600s: its courtyard and main stone building with interior tall ceilings and rounded stone arches. We enjoyed the vivid blue skies with floating white clouds and the rich surrounding green landscape of bushes, flowers, trees and quiet water pools. Driving 2-lane highways through the countryside, we saw sheer rock mountain sides, spring flowers blooming on rolling green hills and valleys and the blue ocean crashing against steep, rocky cliffs. We also saw temples, mosques and churches, the remains of 2,500 years of conquering civilizations including the Carthaginians, Greeks, Romans, Arabs, Normans and Spanish.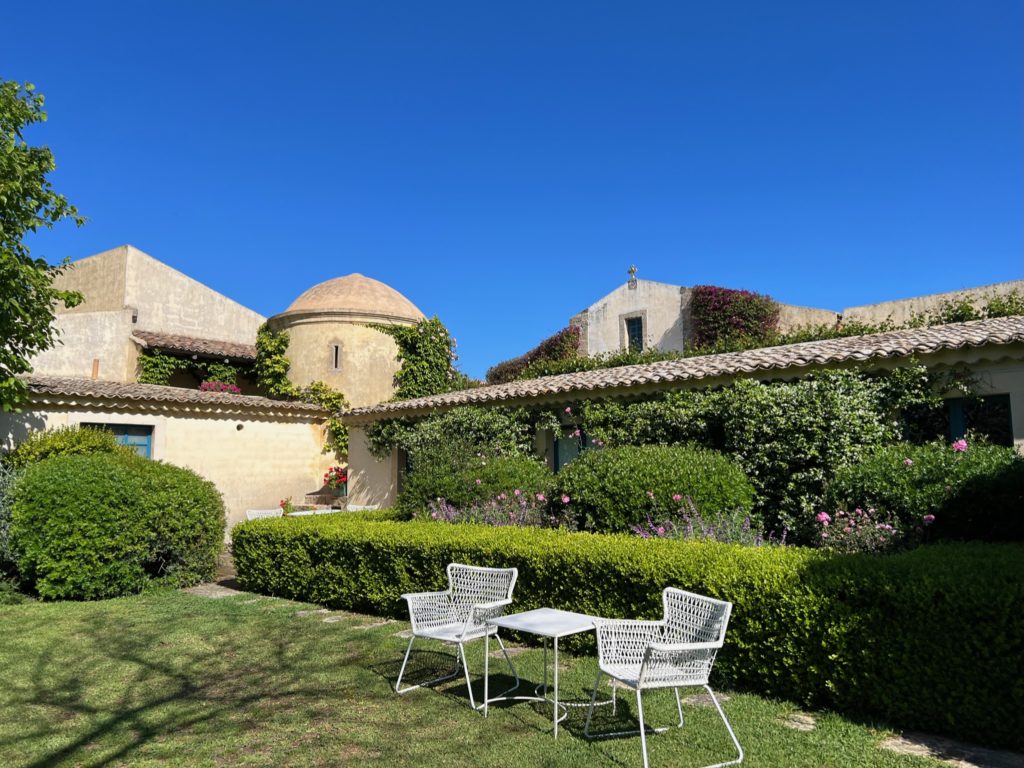 At the Commenda; Siracusa; Temples in Agrigento
TASTE: We tasted excellent food prepared by Francesca, the charming chef at the Commenda. We had different types of pasta, swordfish, fresh greens, vegetables and meat served with savory wines. The Sicilian olive oil with vinegar was divine. Albert and Craig arranged a wine-tasting and delicious lunch at the Planeta Winery on Mt. Etna and another lunch at the Michelin 2-star restaurant, il Duomo, in the ancient hilltop town, Ragusa.
At La Planeta Restaurant; far right: a Taormina bakery
TOUCH: We felt the soft grass under our feet as we walked outside each morning to have our breakfast by the pool. We felt the rugged stones everywhere we walked in old town plazas and narrow streets. And we glided over a sea of charcoal ash around geometric volcanic rock formations on the slopes of Mt. Etna.
 At the Commenda; Taormina; Mt. Etna
SMELL: We smelled the scents of jasmine, lavender, citrus trees, roses, grasses and the rain. In the Catania fish market, we smelled the aroma of blood and guts as the men prepared newly-caught fish.
At the Commenda
We also nourished our minds with interesting conversations across generations, continents and fields of expertise. Our group included lawyers, linguists, university professors; a judge, fashion photographer, artist, author, aspiring writer; an architect, grandmother, software engineer, consultant and biochemist.  We came from Sao Paulo, Dubai, Henley-on-Thames, Washington, DC, Boston, La Jolla.
The feast ended with one question: when and where shall we meet again?
We await Albert's and Craig's answer.
Map of Sicily
© 2023 Susan Beilby Magee