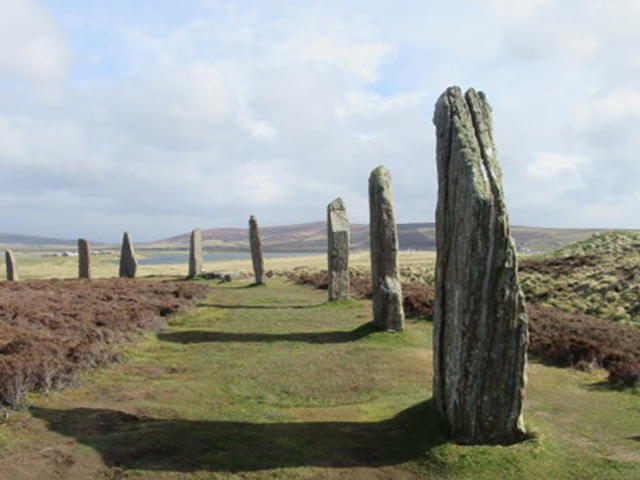 During a meditation one morning in Palm Desert, California, I received an invitation to visit the Ring of Brodgar. I had a vision of the stones and noticed white light coming from one of them. I heard:
"You are ancient." I responded: "I feel it." "No, really ancient. You carry great sadness for Mother Earth and all life on her. You know that she and all of creation are alive, and you wish to help heal her. First, heal yourself. Leave in the center of the Ring all your sorrow, worries, anger, guilt and shame. We will transmute them. It is time for you to be free—to radiate all that you are—to walk in health, balance, love, compassion, equanimity and joy."
I quickly added a week to visit the Ring of Brodgar to my plans to join a Washington National Cathedral pilgrimage to the Isle of Iona.
Orkney: An Austere Land, Shaped by Nature's Elements
On April 26, I fly to Orkney with great anticipation. The sky is grey. I catch a few glimpses of the ocean below. After landing, I drive to Stenness and get my first glimpse of the Ring of Brodgar, a Neolithic circle of stones. No one knows how old it is. The current guess is 4,000 to 4,500 years old.
Even more so than in Edinburgh, the wind and rain determine my schedule out of doors. I see no trees except one grove that sits in a gully, protected from the wind. Along the horizon, hills are rounded by retreating glacial ice of 10,000 years ago. Wheat-colored fields meet green crofts. Water is everywhere, be it the sea or the lochs. Orkney is an austere land, compelling and beautiful.
The Ring of Brodgar
The Ring sits on a raised, broad land. As I walk up the path towards it, I see the standing stones jutting out of the earth, silhouetted against the sky. Water glimmers on two sides; brown heather fills the center. It is a wide circle, over 300 feet in diameter. Stones, varying from 7 to 15-feet tall, greet me. They have mottled surfaces of varied colors. Twenty-seven of the original 60 remain standing. The circle sits on sacred ground.
I quietly walk around the ring, talking to the stones. I touch them and ask that they enliven and realign themselves in harmony for this time in the 21st century.
These ancient standing stones capture my imagination. Who built them? How were they used? What have they witnessed?
Skara Brae, A 5000-Year-Old Neolithic Village
In 1850 a severe storm hit Scotland and stripped the earth from a large knoll, revealing a village whose homes were sunk into the ground. Named Skara Brae, it sits on the Bay of Skaill. There are 8 stone houses, clustered together, connected by stone paths. In each house a fireplace sits in the middle with two areas for sleeping on opposite sides. A dresser or altar stands across from the entrance, and next to it is a square area dug into the ground to hold water to keep fish and crab fresh. Archeologists believe about 50 people lived in this village over a period of 600 years from 3180 BC to 2500 BC.
I visit it twice.
I feel a connection to these people. "From where did they come," I ask? "By water, of course." "Who were they?" I hear: "They are we."
Impact of the Ring and This Dramatic Landscape
The night before I leave, I return to the Ring for the fourth time. I want to watch the sun set and light the stones against a glowing, orange-red sky. Such beauty! I feel alive. My soul stirs. I feel connected to this land and the ancients.
Having returned home, I carry an image of the Ring at sunset in my mind's eye. I am more alert to nature–its power and beauty. Orkney's gifts to me:
I am awake.
I am connected.
I am grateful.
I smile.
Photos © Susan Beilby Magee
© Susan Beilby Magee, 2016. All Rights Reserved.